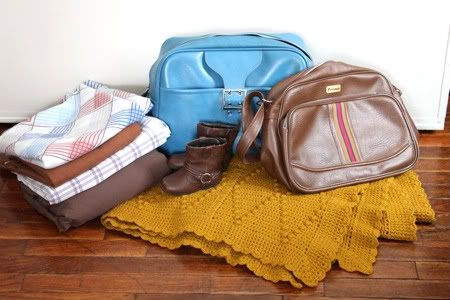 This week's vintage comes in a color story of blues and browns. I found the vintage boy's sheets and blue travel bag earlier in the week at one location and the brown travel bag at another. I was needing to get out of the house so Brett took the kids to the rock wall at the YMCA and I went thrifting. Unfortunately, the first three places I stopped at were either closed for the day, closed because of the snow, or just plain out of business!

The fourth location I stopped at was a huge flea market that I spent an hour and a half in and only found that brown bag. I was both proud of myself for having only spent $2 and disappointed that that was all I was coming home with. So, I stopped in at one more place before picking the family up and found that lovely afghan and boots for Ruby.
I rarely take home anything knit or crocheted because most of it tends to be cheapo acrylic and makes me cringe but this one is made of the good stuff and in beautiful shape. I love the scallops on the edge and it's really dense and heavy which means it'll be super warm.
The vintage boy sheets are among the first that I've liked enough to take home so I've decided to add a few more and offer a boys version of the
quilt kits
that I'll be making from
my collection
next month. They're going to be a larger size than previous quilt kits and perfect for spring picnics or spreading over the end of your bed. I'll also be offering smaller versions for doll quilts and possibly a star pillow kit! I'll be sure to give you plenty of notice when they'll be available because they always sell out fast!
I've got another fun post for you from one of my favorite childrens' fashion bloggers so stay tuned!
xoxo,
Rachel