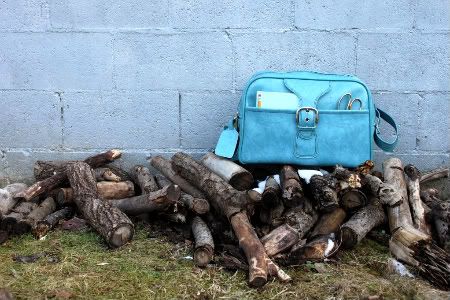 Rubyellen and I thought it'd be fun to share a little 'what's in my bag?' vintage edition. I have yet to find (locally) that perfect vintage handbag with dainty little buckles and well-worn leather
but I do have two vintage weekender bags in my stash that I've used for yarn storage, as a road trip crafting case, a diaper bag, and a suitcase.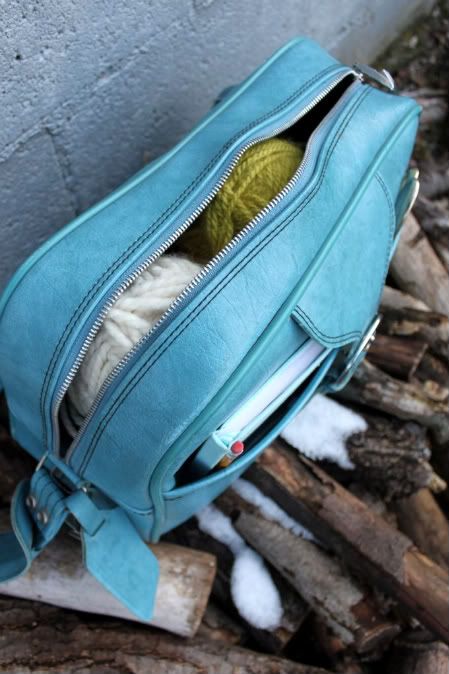 This blue weekender is one I've had for about two years but the other one I have is a lovely mustardy yellow and has two shoulder straps instead of an over the body strap. I most recently used this bag on a road trip to carry some projects to work on in the car while the kids slept. I keep a few things in the bottom when not in use such as crochet hooks, thread, and random writing utensils and keep it in my studio.
I love how sturdy they are and how many things I can fit in them!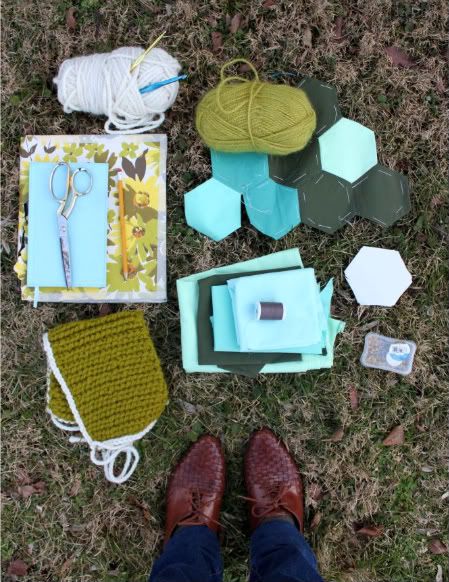 Here's what I have most recently packed in my bag: cream yarn and hook to finish the edging on a hat for Ruby, yellow yarn for granny squares, my second hexagon project using a paper piecing technique, paper hexagons, a needle, straight pins, thread, fabric for cutting out hexagons, my sketchbook for ideas and e-course designs, my planner, and a pencil.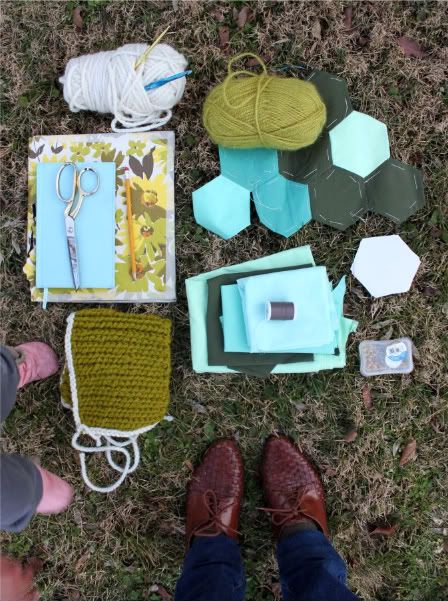 Ruby said it wasn't a VH,VT without her in a photo. Here she is about to get into the stash for the fifth time. She's a good little helper.

A few everyday bags that I could live with if I found them for the right price:
this one
,
this one
,
this one
,
this one
, or
this one
.
Here are a few great weekender bags:
this one
,
this one
,
this one
,
this one
,
this one
,
THIS ONE
, and
this one
.
Check out our Vintage Mama feature from earlier today and head 'over there' to find out what's in Rubyellen's vintage bag.


What kind of vintage bags do you prefer? Do you like them from the 60's and 70's or the 80's and 90's?
xoxo,
Rachel
EDITED: Since I wrote this late at night I forgot to clarify that this isn't my everyday bag. I carry a black vinyl bag my Grandmother bought me at Stage's last year that has a big black bow on it and round silver studs. In it is a multitude of old receipts, straw wrappers, broken crayons, cheerios that have spilled out of a plastic bag, a travel case of diapers and wipes, two pair of sunglasses (one of them broken), chap stick, lip gloss from the drug store, masking tape, and a Thomas train from about 6 months ago.
I carry this one with me on road trips or crafty outings with friends. I had all color coordinated things in it because the projects I work on usually include most of the same colors I'm always drawn to. I think my stuff matches really easily because of this. It comes from knowing what I like and when I only buy things I like, they tend to go well together.
Don't worry. Life is messy over here, too. I'll show you soon. ;)