We really had a four day Valentine's weekend at our house this year. Other than the
military ball
, Brett had drill this weekend so spent a lot of time together as a family on Friday and Monday. It was exactly the kind of low stress weekend that I needed to rebound from earlier in the week!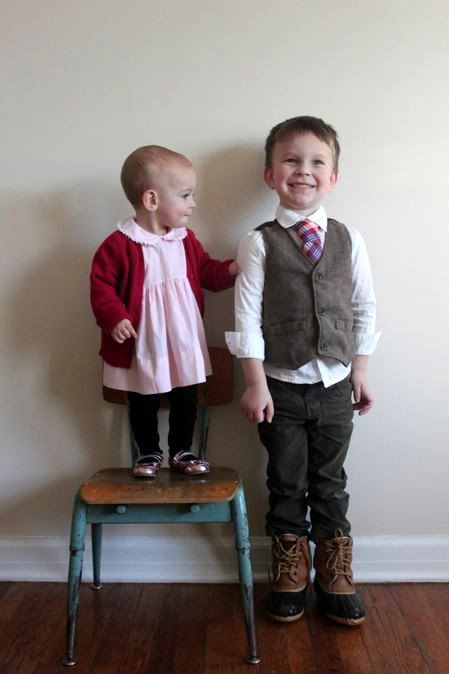 On Friday we went to PetSmart to
see puppies
!!! We wanted Ruby to get a little more comfortable with them than she has been because we're really itching to get a dog. We got to play with a sweet little beagle that let both kids hold her and only chewed on Brett's shoes a little bit. She smelled so good!!! As all new little things smell! It wasn't hard to give her back but it did make everyone even more eager for our first dog!
We went to Target to get Sebastian a Transformer with some Valentine money he got from his great-grandparents and then stopped at Red Velvet to look for a pretty dress. We ran into Katie and her sweet family, got to meet Mallory's boyfriend that drove all day to see her, Wes, one of the sweetest souls out there, and those two beautiful girls that work there and their Valentines! (Emma, I hope I didn't leak that too early!) ;) It was like this really fun unplanned party where the kids entertained themselves and everyone got to catch up!

On Saturday the kids and I colored a huge Valentine, watched videos, read some books, avoided the laundry, and hung out until it was time to get ready for the ball. Then they had fun with their Aunt Brittany while we went to the ball.

On Sunday Sebastian helped me make sugar cookies! The only cookie cutter we could find was a Halloween cat and we were out of red food coloring because we used it up on home made play-dough. SO, we used a jar lid for circle cookies and decided to name the other ones Spring Cat cookies! Ha!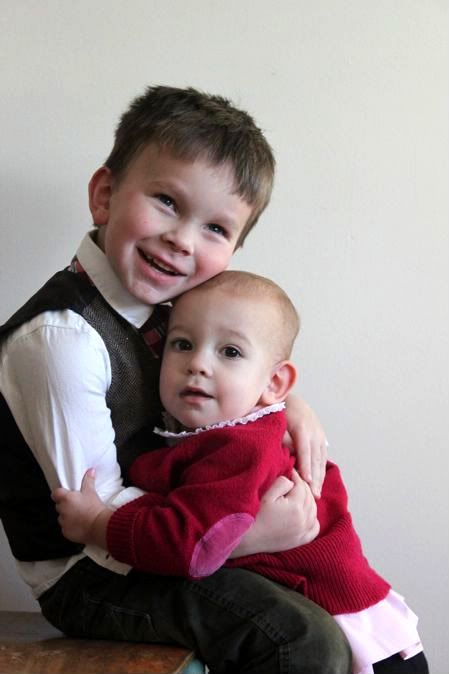 I got the kids dressed for Valentine's Day photos once Brett got home and was so happy that they were compliant! I may have bribed Sebastian with a sugar cookie. Then we delivered cookies to our friends across the street and our friends across town. Our kids played in the melting snow while Katy and I got to chat a little.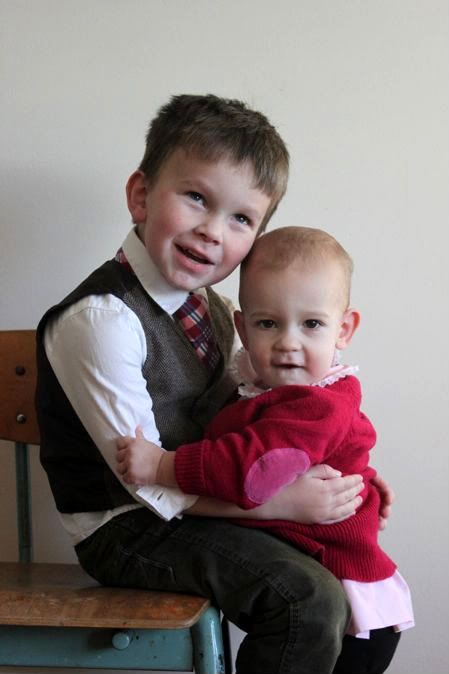 On Monday we enjoyed a lazy morning before heading to the park to play. Then it was the Purple Burrito for lunch with Mexican Cokes, a trip to the record store to pick up the new Bright Eyes a day early, and back home for nap time. Brett enjoyed a little snooze as well so I ventured out to the thrifts for the first time in three weeks! THREE WEEKS! I came home with some pretty things and was very good about not bringing home a few others.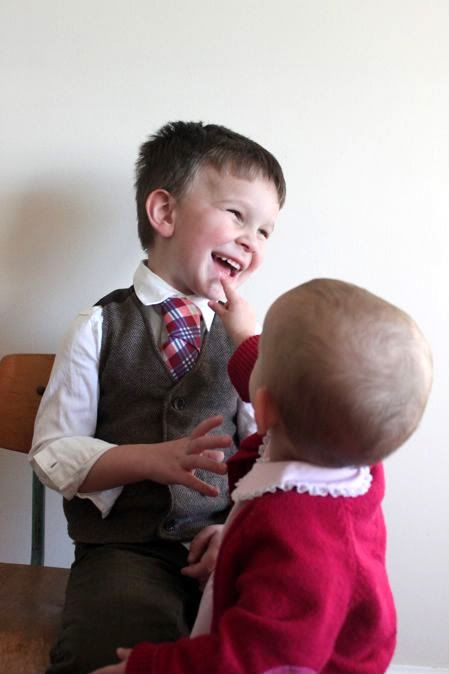 Brett got both of the kids Valentine cards as well as me that we opened over coffee and cereal. We got some fun Valentine packages in the mail from my parents and a package of vintage shoes and a sweet little sweater from
Rubyellen
! Then the flowers Brett had ordered arrived while he was in class that night. It was a day full of happy gifts!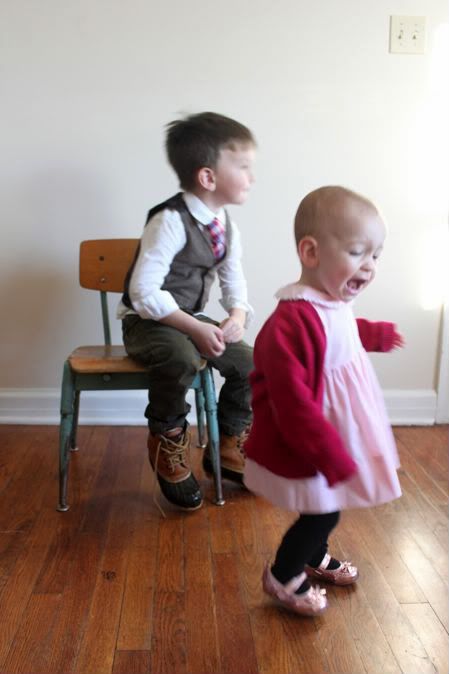 The weather was just beautiful (at least for February!) and we enjoyed some sidewalk chalk time with our favorite neighbors. It's amazing what sunshine will do for someone's well being, isn't it?

Ha! This is my new favorite photo of this boy!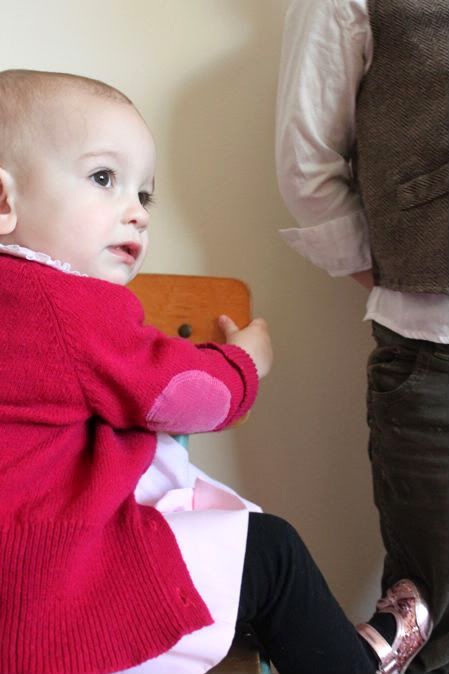 Sebastian wore
: Shirt and vest, Target. Tie, handmade from vintage feed sack material. Pants and shoes, thrifted.
Ruby wore
: Cardigan, thrifted. Vintage dress, thrifted. Black tights, Babies R'Us. Pink sparkle shoes, gifted from
Holly
!
I feel so much better after such a fun weekend and a change of pace. Your sweet comments last week were touching and encouraging to me. Thank you. I'm looking forward to a week of warm-ish temperatures and some fun projects for some posts this week!

What are you looking forward to?

xoxo,
Rachel