Spring break last week meant a road trip to visit family on both sides, which also meant stopping at flea markets and thrift stores along the way. Here are a few of my favorite things. Some were lifted from my MIL's stash before they had a chance to make it into her
Etsy shop
, some were almost free, and some were just worth the extra hour they tacked on to the long drive.
Square one includes three Vera napkins, an unusual Pyrex casserole dish and matching green mixing bowl, a vintage sand bucket with fantastic coloring, a LOT of vintage binding, a green lotus dish, a fun metal trash can for my studio, a floral, vinyl tablecloth, and a yellow enamel Dansk stock pot with lid.
Then there were two vintage aprons (among other things not shown) from my MIL. Thanks, Cheryl! A few vintage pieces for Ruby, a crocheted daisy afghan, vintage placemats in a fun green color, vintage pink Minnetonka mocs, a Fisher Price person, and a lovely embroidered piece.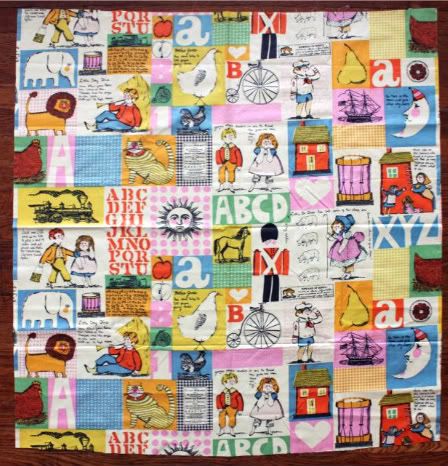 I also got this beautiful piece of chintz fabric from Brett's grandma. It's just so pretty I don't want to use it quite yet. I'll have to think of the perfect project. It's a tad blurry here.
We're hitting a point now where our walls and closets are finally full of vintage/thrifted pieces so it's much harder to come back from a thrifting trip feeling really satisfied. I used to get that cheap (sometimes) high every time I went shopping for my vintage Etsy shop, Pony Party. Springfield and the surrounding areas have some great thrifting so it's always been kind of easy.
As of this week, though, I'm taking a thrifting break. Unless it's a vintage sheet that I can use for quilt kits, something I absolutely need and can find cheaper than at full retail, (or something REALLY special in the wardrobe dept.), I'm going to leave it for someone else to pick up. Have I just put three clauses on my hiatus?
It's a fun habit but lately it's felt a little less satisfying and that usually means something. Thankfully, I have a whole batch of vintage dresses that have been waiting for warm weather (and a little time at the sewing machine) to be shared!
Anyone else have too much of a good thing in their life at the moment?
xoxo,
Rachel