A little background info in the sewing department.
Q: How did you learn to sew?
A: I have one specific memory of hand stitching some barbie clothing that I had made to my barbie's body when I was a little girl. Another memory is from sometime during elementary or junior high when I raided my Meemaw's vintage fabric stash to make a simple patchwork doll quilt. I can't remember at what point in between those two memories I first started sewing on a machine but the crafty influence from my mom is undeniably the reason I started. She used to make my dresses for church, Halloween costumes, Christmas presents, and fancy pillows for our home.
My Meemaw gave me a Sears Kenmoore sewing machine as a wedding gift eight years ago and I've since sewn for myself and designed and sold product for
Red Velvet Art's shop
and online craft classes.
Q: Why do you love to sew?
A: I love being resourceful and using my creativity to personalize my own home. Sewing has been a way for me to make things that I love when I can't find anything in stores (or in my budget) as well as a way to pass on keepsakes in the form of quilts, clothing to my children. It's also provided me with the means to contribute to our family finances while staying at home with our young children. I love the way it ties me to so many generations of women and satisfies that strong creative urge to make things.
Q: What is your favorite thing you've ever made?
A: Easily my first large patchwork quilt. I was inspired by the colors of a vintage crazy quilt my SIL owned and gathered vintage and new fabrics for weeks before spending a good chunk of my Fall break cutting and sewing blocks together. It was the same weekend that we found out I was pregnant with our first child (Sebastian) so I like to attribute my desire to take on such a big project to hormonal changes! I still love the colors in my first big quilt and the uneven rows are charming. (Ruby shown on quilt below.)

Q: What is your favorite technique?
A: I'm really bad with following patterns and technical directions and I'm all over the short cuts when they present themselves! Is that a technique? Taking short cuts? I think it must be. ;)
Q: What part of Home Ec are you most excited about?
A: I think I'm most excited to read the comments from students who have taken their machines out of the closet for the first time in awhile, have overcome their frustration/intimidation/insecurities with making it work for them, and have suddenly realized their reason to live. Or at least realized they can do it, too! Positive feedback from students that have enjoyed previous online classes is always a thrill but I love feeling like I've/we've introduced someone to their new favorite thing.
If you've always wanted to learn how to use that sewing machine you found at a garage sale or could use a few tips on how to get your button holes to turn out like they should, you should join us for
Home Ec
, an online class designed to teach you how to enter the land of back stitching and squaring up with confidence. You'll get the skills you've always wanted and resources to become quite the innovative crafter/homemaker/business person/best Christmas present maker ever.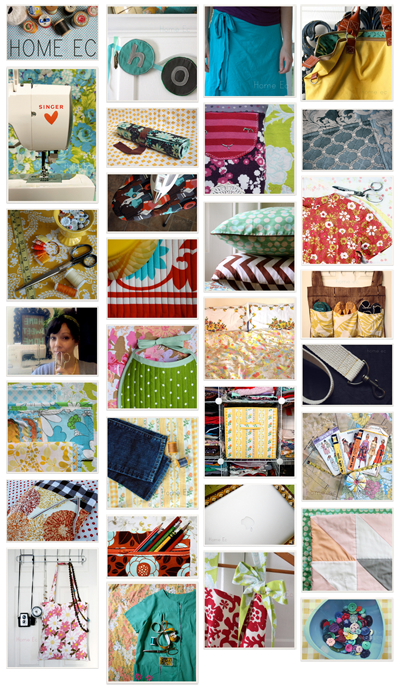 Class starts on August 10th. Don't be late!!!
xoxo,
Rachel


p.s. If you'd like to hear more about the other lovely teachers you can read
Leigh-Ann's
interview here and
Courtney's
here. They are super duper!