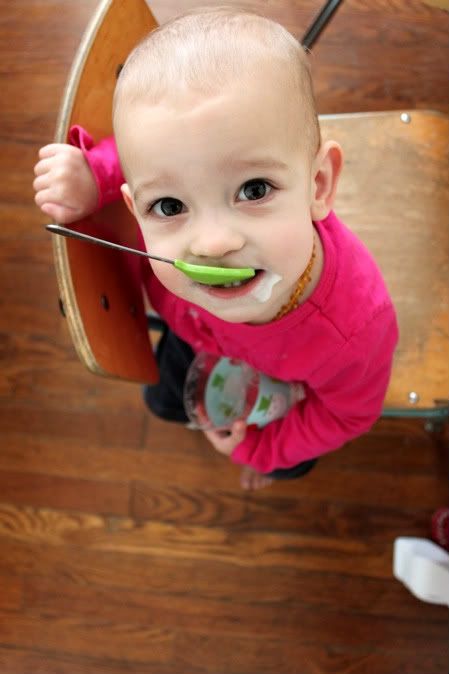 Ruby is suddenly such a spirited little thing. She knows how to ask for what she wants either using the sign language we've taught her, some sounds that have become consistent enough for me to know what she means, or lots of pointing and patting. She's very expressive.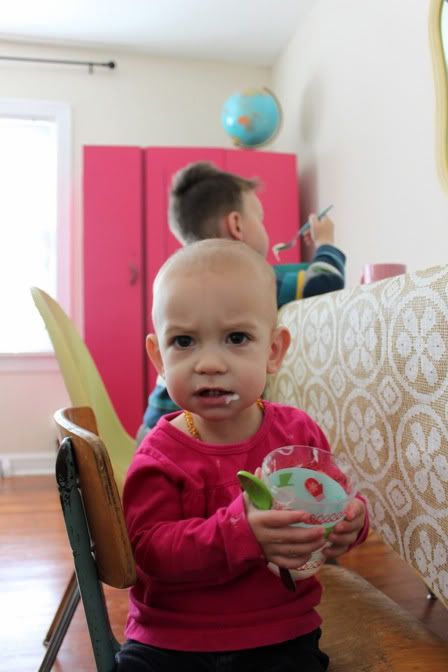 Recently she's insisted on feeding herself. I haven't had her high chair in use for a few weeks because it's so bulky and we have a petite little section of our family room designated for the dining table. In fact, I felt like Ashley Campbell and I were living in a parallel universe on this front when I read this
recent post
. Instead, she's adopted this little chair to sit in and make a mess...I mean, enjoy her meals.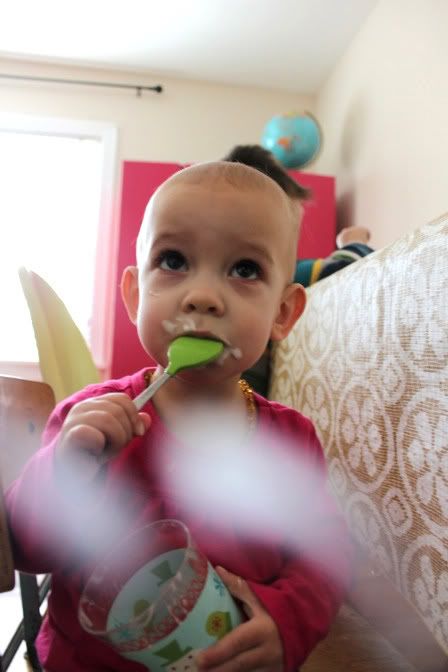 I got too close.
She's getting better at it, though, and every day she shows me something new about herself.
She showed me how she can use her little chair to climb onto the big chair to climb onto the table. Yes, the table. Where we eat food. And have coffee cups that tip over onto important papers and such. (Don't worry, Brett was standing just to the left of this photo.) Doesn't she look so pleased with herself.


She's always checking to make sure her belly button is still in place and wants to see everyone else's too. Watch out if you come over to my house!

Her hair is slowly but surely making an appearance in the back but I don't think I'll need to worry about barrettes any time soon.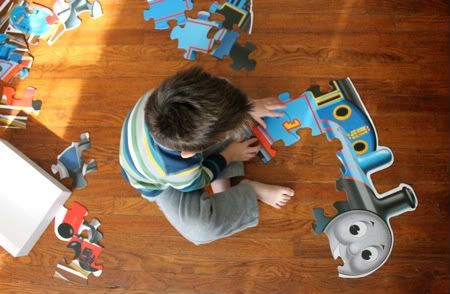 That little boy that isn't as little as he used to be has rediscovered his love for Thomas lately and was so proud when he put this puzzle together all by himself this week. I asked him if I could take a picture while he was putting it together and he was fine with that. He came and got me when he'd finished so I could take another picture. Heart swell.

He's quite the affectionate little man and loves to bear hug his sister. They were watching Elmo the other day and I came back in from the kitchen to see he had moved from the couch onto the floor to hug her. Heart swell!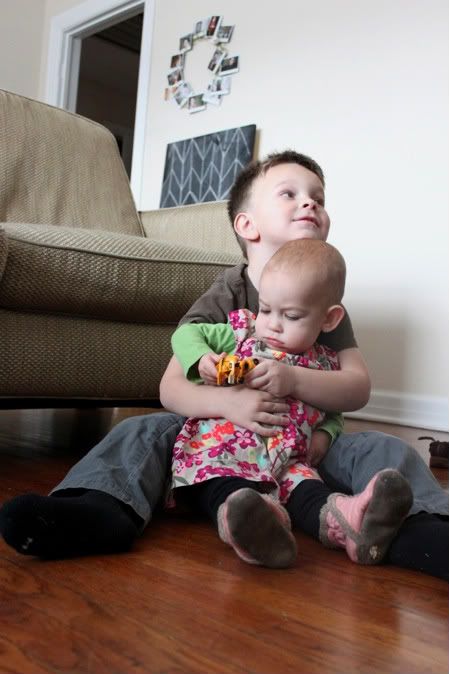 Most days these kids are happy to have each other. Sometimes S will tell me he doesn't want Ruby anymore because she does bad things like sticking her hand in the toilet and pulling banana peels out of the trash can. We remind him that it's our job to teach her how to make good choices just like we're teaching him to make good choices.
Choices like always washing his hands with soap after he uses the bathroom or telling the truth when I can tell he hasn't.
We all need help making good choices sometimes.