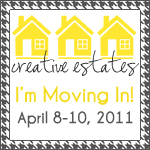 And the winner is...
Heather Louise
said...
I have so few friends who sew and I feel very isolated in my passion. It would be so wonderful to have the opportunity meet more people who love to create. Thank you for the chance.
Heather,
You've just won a free pass to the Creative Estates weekend, valued at $149.00! Please e-mail me so I can pass your info along to the necessary people. Congratulations!
Thanks to everyone that entered to win. I hope some of you get to make the trip!
xoxo,
Rachel