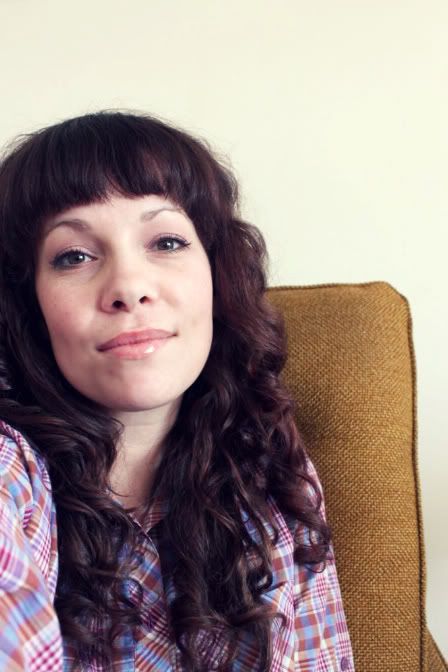 I thought it'd be interesting to share some things about myself from my past and my present since I mostly share about projects and family life. It's fun to remember what I was like at age ten and twenty as I approach thirty this August. (EEK!)
Past
* I didn't have any hair until I was two. Then it was ringlets for awhile. I even had a little bit of a ringlet mullet. Then it was just kind of bushy. Then I had puffy bangs. I finally figured out what to do with my curls again in eighth grade.
* I was much more comfortable on the soccer field than chatting with girl's about hair and make up in seventh grade. I still feel that tom boy in me.
* My English teachers were the most formative teachers throughout my school years. Even the grammar class I took my junior year of college, the one that stressed me out so much that I got a stomach ulcer, taught me something about myself.
* I've been bitten, thrown, and bucked off three different horses. I still feel my ten year old self get excited whenever I see one in a pasture.
* I used to ride bikes with my brother across town to get slushies from a random candy store. We rode bikes everywhere! I loved having that kind of freedom as a kid.
* I remember a lot of Madonna, Michael Jackson, NKOTB, and roller skating.
* I was the one in our group that got violently sick on a mission trip to China in high school.
* The worst thing I did in high school was drive my new car over the Varsity soccer fields to impress my boyfriend. I did donuts in broad daylight and my brother's friend saw me and told my parents.
* I was the new girl at school my freshman year of high school and really liked the attention.
* I've always had to work hard at friendships with girls.
* I went to Paris when I was 18 but it was too cloudy to go up the Eiffel tower and I skipped the Louvre because I had NO IDEA what it was. Silly me.
Present
* I dream of deep friendships, a big old house, slow days, and parties in our backyard.
* I went to renew my license on Monday and failed my driving test. I now have a permit until I take it again next week. This was quite humbling. Brett said it just added to my interestingness. He's nice.
* I love to sew more than I love to journal and I love to thrift more than I love to sew.
* This is the longest my hair has ever been.
* My favorite new shirt (shown above) is from the 80's and kind of reminds me of my mom (in the 80's).
* I miss California. There is no place like California.
* I struggle with initiating things that are necessary to strong friendships. This includes but is not limited to e-mails, phone calls, coffee dates, and surprise visits.
* I'm really good at asking questions and love hearing people's stories.
* I am kind of looking forward to my thirties.
What about you? Feel free to share your own Past and Present below or on your own blog. Let's get personal, personal.
xoxo,
Rachel